Contact Dan's Drain & Duct Cleaning

Serving the Sioux Falls and Beresford, SD Area
Dusty, funky ductwork and clogged drains can be a serious nuisance leading to severe damage. Contact Dan's Drain & Duct Cleaning service today. Our duct cleaning commitment to exceed all expectations means you will enjoy the best indoor air quality for your home or property. Our drain cleaning work provides valuable benefits including a exceptional working environment, and better productivity. For questions and comments about our reliable drain cleaning, dryer vent cleaning, duct cleaning, or other services, please fill out the form below or contact us via phone at 605-351-5900. Thank you for your interest in working with Dan's Drain & Duct Cleaning.
Start breathing easier today.
Clogged drains can be a serious nuisance that can also lead to serious damage
We look forward to hearing from you soon!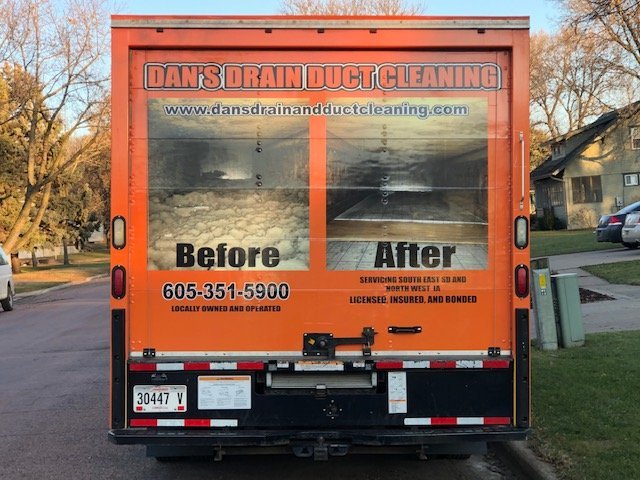 Contact Info
Phone: (605) 351-5900
Email:  Dan@dansdrainandductcleaning.com
Hours of Operation
Monday thru Friday, 7 a.m. – 5 p.m.
We are available for 24-hour emergency service as well.
Service Area
We are proud to provide clean duct work to local residential and property owners. Dan's Drain & Duct Cleaning has two locations in South Dakota – Sioux Falls & Beresford. We provide services to all of Southeast South Dakota & Northwest Iowa. Furthermore, we do not charge mileage up to 35 miles from Beresford, including Sioux Falls! Our team looks forward to servicing your commercial or residential property.